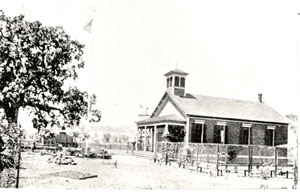 Now the home of Simon Levi Cellars, the Old Kenwood Schoolhouse was once known as the Los Guilicos Schoolhouse of Kenwood. In the late 1890's the children of Kenwood, who were attending school in the nearby Kirkwood Hotel, were given their own large one-room schoolhouse. That same room today is the Simon Levi Tasting Room. Photos on the wall show the schoolhouse and Kenwood as it existed over 100 years ago. When in the area, stop into our tasting room to see a little of the schoolhouse history.
In addition to being a school, this Old Kenwood Schoolhouse has played various roles. At one time, it was an apartment building, a roller rink and a hardware store. After many attempts to purchase this historic building, the owners of Simon Levi Company finally succeeded in 1992. Since taking ownership of the Old Kenwood Schoolhouse, the fifth generation heirs of the original founder, brothers Barry and Brad Jacobs, have spared no expense in restoring and renovating the historic building. Even with a few cosmetic changes, the exterior of the schoolhouse still remains in its authentic condition. Inside, the building has been uniquely updated.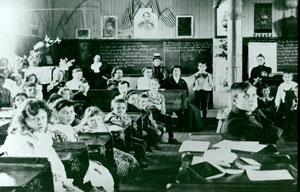 Besides our wonderful wines, the tasting room offers a multitude of items to peruse. We also offer a variety of gourmet delights, including mustards, oils and other wine country fare. Enjoy your new finds on one of our many picnic tables. Stretch out on the lush lawn, play a round of croquet, or give in to a little siesta in the shade while enjoying the idyllic beauty of the surrounding Sonoma Valley.
Take a moment to stop and take in a little history. Try some of our limited selection wines and enjoy our warm & friendly atmosphere. Simon Levi Cellars is located in the heart of Kenwood in the Sonoma Valley, at 9380 Sonoma Highway.
For more information call (707) 833-5070.
SL Cellars • 9380 Sonoma Hwy. Kenwood, CA 95452 • phone: 707-833-5070 • e-mail: info@slcellars.com